About Susan Caplan
Susan Caplan is the globally renowned luxury vintage jewellery brand synonymous with exclusivity and authenticity. Her pieces are seen on high-profile celebrities, and her collections, seen in the world's finest stores, including The Metropolitan Museum of Art Shop, New York and The Victoria and Albert Museum Shop, highlight the synergy between vintage and contemporary style. Susan's 40 years of experience in the vintage jewellery profession has honed her the leading curator unrivalled in the world.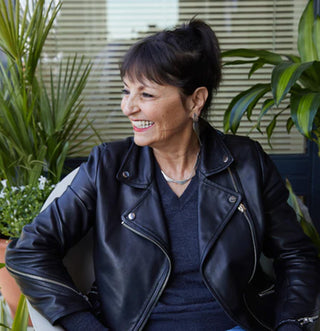 Susan's surroundings were inspirational from her earliest days. She was raised by a family of passionate antique collectors, with stores in London`s Camden Passage, who also had a deep appreciation for contemporary style. London's post-war art and architecture scene was bursting with remarkable new designs, many of which could be found in her family house.
Designed by revolutionary architect, Walter Segal, her childhood home featured floor to ceiling windows, woodblock floors and a kitchen personally designed by Terence Conran.  Classic Georgian furniture mixed with ultra-modern fifties' pieces, created a remarkable atmosphere that would deeply influence Susan's sense of style and creativity.
Self taught after years of studying antique and vintage jewellery reference books, scouring many antique fairs and charity shops including viewing many auctions near and far afield, Susan professionally turned her hand to antiques, honing an exceptional eye for detail and quality. Vintage jewellery eventually drew her focus and in 2008, she created Susan Caplan. From her London showroom, she curates sublime collections of hand-picked pieces for the finest retail stores.
With her collections spanning the last 8 decades and designers including Chanel, Givenchy, Dior, Trifari, Monet and more, her pieces capture the attention of all who care about style and sustainability.

Susan's vision is that of a fashion economy that celebrates and reinvigorates the past in a way that helps to protect our planet today. Every piece in Susan Caplan's jewellery collections has been approved by Susan herself and meets her strict requirements for authenticity, quality and condition.

Each piece looks as stunning as they were in years gone by, challenging the perception of vintage as 'faded grandeur'. This is grandeur at its finest and we're proud to provide a new life for our slices of fashion history in a way that positively impacts the world we live in.