Delivery
Returns
We're here to help
Standard UK Shipping - £4.95 / FREE on orders over £50.00
Next Working Day Delivery UK - £8.95 (place order before 2pm)
Guaranteed Saturday Delivery - £8.95 (place order before 2pm Friday)
DHL European Delivery - £33
DHL Canada / US Delivery - £38
DHL International Delivery - £45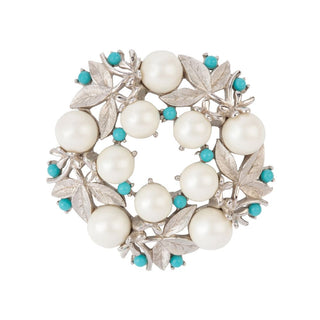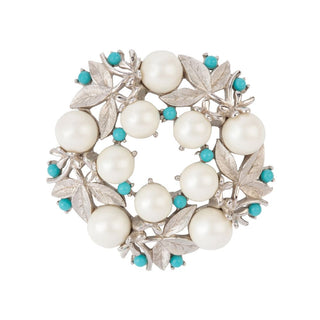 1960s Vintage Sarah Coventry Faux Pearl Brooch
Classic design and fresh colour. Silver plated faux pearl and turquoise wreath brooch. Textured leaves are embellished with luminous faux pearls and faux turquoise cabochons. Safety-catch pin closure, signed Sarah Coventry.
Silver plate, faux pearl and lucite, 5.08 cm
ABOUT THE DESIGNER
Sarah Coventry jewellery reached its peak in design and quality in the sixties and seventies. The brand is well-loved for its variety of colours and styles.
PRODUCT CODE: WPN000293
More Information
We offer our signature gift packaging with each order - Your order will be packed in either our Eco friendly FSC certified box or our Eco friendly cotton pouch. Each box is 100% recyclable and biodegradable and comes with a care card. We do not use foam or velvet inserts but recyclable card inserts to further help in our efforts to provide a better future environment.
*Please note that vintage jewellery was produced prior to the introduction of the 2002 law prohibiting the use of nickel or nickel compounds. Customers allergic to these metals may experience skin rashes or irritation where the metal is in contact with the skin.
VINTAGE DISCLAIMER
We consider vintage items to be 20 years or older. The exact age is sometimes unknown so periods are approximate. Most of our items are pre-owned, some not old enough to be considered vintage. Please note, these items do not carry the word "vintage" in their description on this website.