Delivery
Returns
We're here to help
Standard UK Shipping - £4.95 / FREE on orders over £50.00
Next Working Day Delivery UK - £8.95 (place order before 2pm)
Guaranteed Saturday Delivery - £8.95 (place order before 2pm Friday)
DHL European Delivery - £33
DHL Canada / US Delivery - £38
DHL International Delivery - £45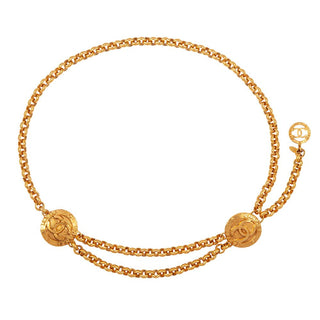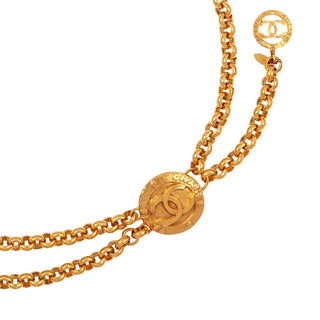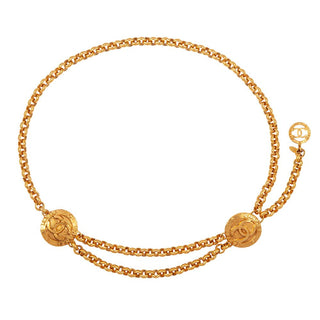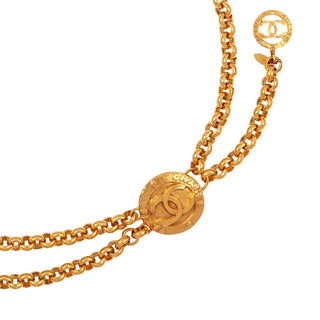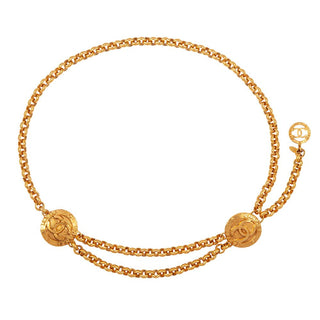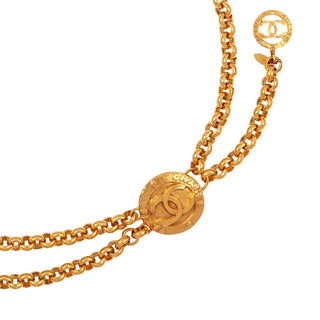 1989 Vintage Chanel Double Chain Belt
The most desired label in the world. Gold plated double chain belt with supersized iconic CC medallions. Stamped with Chanel authenticity mark.
Medallion decoration was often incorporated in Chanel`s jewellery. Victoire De Castellane started her career with Chanel in 1984 and continued this ornamental and decorative detail throughout her 15 years of heading Chanel`s costume jewellery department. Victoire De Castellane is now Creative Director for Dior Joaillerie.
This Chanel item has been authenticated by Susan Caplan. We are not affiliated or endorsed by the brand.
Gold plated , 89 cm
ABOUT THE DESIGNER
The legendary Coco Chanel was a champion of costume jewellery mixing fine and costume pieces together. She was one of the most influential fashion icons of all time. During a very brief career as a cabaret singer, Chanel performed in clubs in Vichy and Moulins where she was nicknamed "Coco." Vintage Chanel jewellery is generally bold in design, gold or silver plated with distinctive colouring. Her iconic CC's seen on so many of her creations was an interpretation of a stained glass window in the Aubazine Abbey, Correze, in France where she spent her early years in the orphanage at Aubazine.
PRODUCT CODE: WAC000172
More Information
We offer our signature gift packaging with each order - Your order will be packed in either our Eco friendly FSC certified box or our Eco friendly cotton pouch. Each box is 100% recyclable and biodegradable and comes with a care card. We do not use foam or velvet inserts but recyclable card inserts to further help in our efforts to provide a better future environment.
*Please note that vintage jewellery was produced prior to the introduction of the 2002 law prohibiting the use of nickel or nickel compounds. Customers allergic to these metals may experience skin rashes or irritation where the metal is in contact with the skin.
VINTAGE DISCLAIMER
We consider vintage items to be 20 years or older. The exact age is sometimes unknown so periods are approximate. Most of our items are pre-owned, some not old enough to be considered vintage. Please note, these items do not carry the word "vintage" in their description on this website.